MediaCAST Cloud + Mobile Learning App Package
MediaCAST's Mobile Learning package provides education institutions with an easy solution for centralizing, managing and distributing videos, images, PowerPoints, audio files, PDFs, digital textbooks, eBooks and more, to every staff and student mobile device.
Instructors appreciate the intituitve process of assigning media titles to a single iPad/Android tablet user or multiple groups. Once assigned by the instructor, homework can be downloaded from the cloud server to student iPads/Android tablets with one touch of the 'sync' button. Students can then view assigned media anywhere from their device, no internet connection required.
When the resource's expiration date, set by the instructor or administrator, is met, the resource is automatically removed from the students' iPads/Android tablets and the licenses are restored to the digital library.
Easy-to-use wizards guide you from desktop to delivery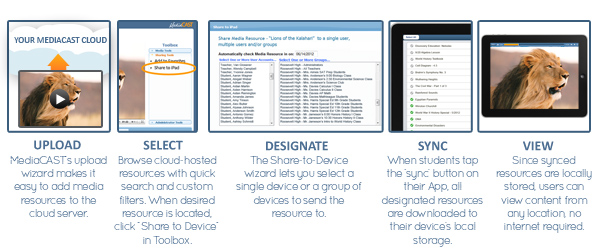 BENEFITS
Browse your downloaded resources by recently uploaded, favorites, recently added or by their media type

Just like a physical library, you can check out and check in resources, and the number is limited only by the storage space on your iPad/Android tablet. Unlike a physical library, the media resource is not removed from the digital library once it has been checked out. Instead a copy is made onto your iPad/Android tablet so other users can still access that resource while you have it checked out.

Students can watch media-resource homework on the bus and from any location, regardless of internet connectivity.